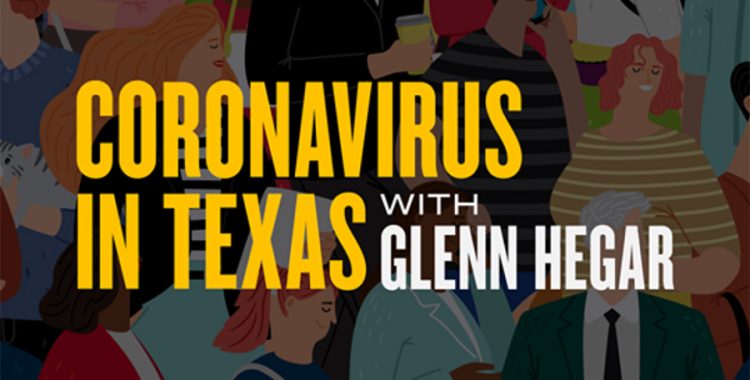 Texas Tribune Interview with Texas Comptroller Glenn Hegar – April 7th
Ross Ramsey of the Texas Tribune interviewed Texas Comptroller Glenn Hegar to gain insight on how COVID-19 has impacted the state's economy and workforce. Topics of discussion included the drastic increase in unemployment filings, the depression of global oil prices, and the ramifications of stay-at-home order restrictions on Texas' economy.
This report is intended to give you an overview and highlight of the discussions on the various topics discussed. This report is not a verbatim transcript; it is based upon what was audible or understandable to the observer and the desire to get details out as quickly as possible with few errors or omissions.
Ramsey Q: What's going on with the Texas economy?
A month ago we were very strong
Lots of businesses shut down due to pandemic, also oil war going on
We have entered into a recession in TX
Numbers have changed drastically even in a couple of weeks, now looking at low double-digit unemployment in the state
Q: How much of the current troubles in TX are attributable to pandemic vs oil?
Downturn in oil price would hurt the state economy
Sales tax receipts in oil were slightly down before price war started
It isn't near as deep as having a massive number of businesses close overnight
The downturn in oil prices could affect certain parts of the state but wouldn't cause TX to enter into a recession
Q: What questions and answers are you giving legislators?
Tax receipts- February collections are remitted in March
We don't have real good data to look at in actual collections right now, it will lag for a couple of months
My team has looked at what happened to the TX economy after the great financial crisis, 9/11, etc.
Legislators are asking questions
Economic packages, what they mean for the state
What kind of blanket relief they can offer in TX
Can state use dollars from the federal government to help get local governments back on their feet?
We are trying to figure out immediate solutions but we haven't seen something like this before
Q: Are you giving them an estimate on what kind of a hit it will be? We are halfway through the first year of a two year budget.
At comptroller's office, we are freezing hires, no raises, etc. We are doing everything we can to make our agency budget last longer
Economic Stabilization Fund (ESF) s at $9.3 billion, will probably be mid $8.5 billion at end of year
Looking at how many dollars are in ESF that could be drawn into agencies- $2 billion not spent yet but much of that was already allocated for Harvey relief and flood-related
We are trying to help agencies figure out the best ways to cut spending
Q: What directive is going towards agencies in other areas of the government?
Some agencies will have increased spending because of the coronavirus and we are working with agencies to track those expenses
Everyone is very busy right now and we are trying to get over our initial hurdle
We have talked with others about them looking at their budget, though unofficial
Q: You have told the legislature you are working on a revised budget to be out this summer?
Yes, we will be sending money to school districts in the fall and other money. In the summer we will have a more concrete tax summary and will know what we can start looking at
July will likely come out with next revised budget- likely a revised downward estimate of several billion dollars
Q: Are you confident this will be the last estimate?
We are trying to use good data before giving downward revisions
We have looked at the great financial crisis and 9/11 for insight
Hotel occupancy across the nation is down around 65% compared to last year
We can't compare exactly to prior events, which is why we are starting to get good, hard data and not paint a picture of what is worse than it actually is
Q; Will there need to be a special session to revise the budget?
No, we can cash-flow. We have a large ESF and I can use those dollars to cash-flow with. We take small amounts out and then pay back with interest
Q: Cities are being decimated by the shift to online shopping in normal circumstances, compounded by the pandemic. What are you saying to local city officials?
Sales tax dollars are going to be reduced
I have been talking with them about that
Leaders have asked me about sales tax deferrals. We have that authority, but it's blanket deferral for every region and business in TX and it's not necessary for every business right now
If I gave a deferral across TX, I would also be making that decision for all jurisdictions that wouldn't get that sales tax locally
The dollars that would come to the state would be a little over $11 billion. 45% to local governments
Federal government dollars are really towards fighting coronavirus
Discussion on Package #4 from congress right now would potentially be to allocate money to the state to be allocated to the local gov'ts.
Q: A Legislator said you talked with her about FMAP money- may get more than in the past?
DC Package #2 had increased FMAP match of 6.2% for first two quarter of this year, roughly $1 billion for the state
It is evident we are still in a better place than other states
We are wanting congress to extend the FMAP match for another two quarters. It saves us $1 billion in state money for Medicaid that we could allocate elsewhere
Q: You would have to keep everyone in Medicaid from March 2020 and there are strings. Would there be political division on that?
I don't think there will be significant pushback to keep individuals that were on the rolls, to remain on the rolls. Many of them have lost jobs
We are trying to work together as Texans to get through it
Q: The state is about to be in the next cycle of school finance funding. Appraisals, property tax protest, all that is coming up. Districts are in disarray because they are closed.
As appraisal notices are going out, the question is on how this will affect how appraisal districts function
Appraisal districts, people can't come in their door, which is challenging for rural areas
They are asking us what flexibilities they have- asking about using 2019 values
State statute requires us to look at it as of January 1. We are working with them to try to meet demand and tax payers need opportunity to go through due process to protest properties
Q: Revenue is falling at the same time demand for government services is rising.
One tool isn't going to fix everything
Agencies are going to try to reduce expenditures
There is an ability to move dollars in the treasury as needed
We have a large ESF balance in place for economic downturns
I was in the legislator when we had economic downturns and it was hard
We will have to get through it with a combo of a lot of different options
We don't know how deep or far stretching this will be
Q: You called it a recession early on. These are the types of things that restructure state and local gov'ts.
We are in a recession, we just don't know how far-reaching
When Saudi said they were reducing oil prices I was worried it could send us into a global recession
As we have moved further in social distancing, there was no doubt many people would lose their jobs
It is pretty evident much of the world is shut down, you just don't know how far-reaching
We are trying to manage expectations now to react quickly
Q: Legislators are coming to you talking about taxes that are being lost, what ideas would you have about raising more money in other areas?
Tax exclusions and exemptions-where I always refer people, it gives people a first glimpse of numbers
There is no easy fix
Q: That is a catalog of tax exemptions?
Yes, sales/property/auto/etc. taxes. Something may be exempt from sales tax but not exempt from something else, but it is a reference tool for leg
Q: What taxes are people asking you to cut? I know the hospitality industry and Railroad Commission had asked about deferrals.
Most of it has been requested to defer sales tax so they could hold onto dollars for a few more months. Unfortunately, it is an all or nothing-against every industry sector and county
Was talking with 2 oil and gas associations a couple weeks ago, talking about if they were paying taxes on oil in the ground
State statute is clear that I don't have authority to target one industry sector
Q: What can you do from state level to ease people through a thing like this?
We need to make sure that people have the right information to keep businesses and employees- knowing about federal dollars, exemption, etc.
DC is the one that can come with significant dollars because they can print money
Q: Reporting mechanism. There was a moment in March that your office announced employment figures were really good. There is a lag built in, because the same week the federal government was saying we had lost jobs.
Unemployment claims- unprecedented numbers
As we send out data for February, those numbers are not telling anymore
Sales tax is the biggest determinator for the state budget- the first glimpse will be from collections from this month, but will still only tell some of the picture.
Around first of June, we will be able to see where we are at
Q: Going back, if property tax appraisals go down. Less local money for schools and would need more state money to make up for that. Have you started conversations about where the state's load would increase?
Public education and health and human services are two biggest expenditures for the state
Oil is volatile and there are fluctuations
Property taxes haven't gone down at all in the past 20 years
Sales taxes, occasionally has a fluctuation every 5 or so years
Before this downturn, TX had a strong economy
I don't think there will be a significant decrease in property values across the state, but we are looking at all the numbers to get them to policy makers to help them make real decisions
Q: After going through other economic crises, how long do you think it will be before lawmakers have to make decisions?
Next session, January 2021, they will have to work on the budget again
Q: Still don't think there will be a special session?
No. If I do see the need for it, I will be the first one to say something
Q: ESF is filled largely with money from oil and gas. How long would it take for a recession to cause the ESF to not be refilled
Having $8.5 billion is a significant cushion
I am not going to give a prediction of oil and gas prices in the next couple years. It is volatile
We think we will have about $1.2 billion transfer to ESF at the end of this year
We are trying to get to a point where we can predict for the next few years
Q: You're not at a point where you can tell legislators more about the next budget?
No. Trying to predict what the state economy will be doing in Sept. of next year would be really challenging. Need better data to back up
Q: What does the TX economy look like right now?
This event is going to cause a major disruption in how we do business from here-forward
It's going to accelerate moving towards work from home, but not everyone can do that
We had to clarify online sales and we don't know who the winners and losers will be based on that
Q: Public health people have told us it will get worse before better. Is it the economic status as well?
Yes. That's why I started calling it a recession so early on to help manage expectations
The virus could come back in the fall or the spring
Can we target those that have the virus and isolate them so we can open up other areas of the economy? Experts are working on these issues to help us figure out how to help people but also manage economy